The H.H. Gregg company was founded on April 15, 1955, in Indianapolis, Indiana by Henry Harold Gregg and his wife Fansy. The business was founded on caring customer service.  Shoppers enjoyed the personal service and attention to detail the store offered, and as a result, business soon prospered.
The first store was just an 800 square-feet appliance showroom and office, but by 1960 H.H. and Fansy already found the need to
relocate their store to a space nearly three times larger. In just a few years, the company moved again into a 5,200 square-feet location on North Keystone Avenue in Indianapolis.
Mr. Gregg's son Gerald Throgmartin joined the company in 1966 after nearly ten years of sales at Sears. Gerald's brother Don Throgmartin joined the company in 1969, and managed the Kokomo, Indiana store for the next decade when it opened in 1971. A third store was opened on the South side of Indianapolis in 1971, and two years later another store opened in Anderson, Indiana. In 1974, Henry Harold passed away and Gerald assumed his father's position of President. A fifth location was opened on the East side of Indianapolis the following year- the same year Gerald's son Jerry Throgmartin joined the family business.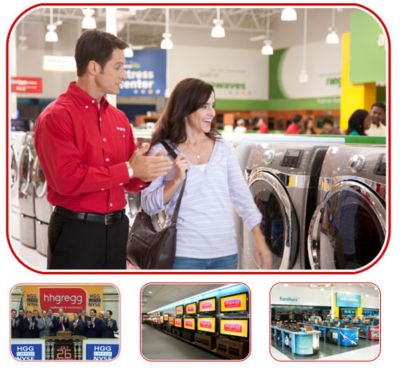 Sensing a move toward larger stores in the appliance and electronics industry, the decision was made to build a "superstore" on the North side of Indianapolis in 1979. Between 1979 and 1984, three additional superstore openings soon followed, including one in Lafayette, Indiana, as well as relocations on the South and East side of Indianapolis.
The company's first move out of Indiana came with the purchase of Famous State Sales of Nashville, Tennessee in 1984.
h.h. gregg reached a turning point in 1986.  A small appliances and electronics company was purchased in Terre Haute, Indiana and the new 180,000 square foot corporate headquarters and warehouse distribution center opened in Indianapolis. The company also began to use computers for operational purposes for the first time.
By the end of 1987, h.h. gregg had purchased Old Hickory TV in Nashville, Tennessee and opened three more stores.
In 1989, Gerald Throgmartin became Chairman and Chief Executive Officer, while his son Jerry Throgmartin was promoted to President and Chief Operating Officer. By 1999, h.h. gregg acquired eight stores from the defunct Sun TV in the Cincinnati market. Shortly thereafter, Dennis May started at h.h. gregg as Executive Vice President. Between 2000 and 2003, h.h. gregg continued its expansion into the Ohio, Atlanta, and Louisville markets, bringing h.h. gregg's total stores to 47 in October, 2003.
Over the next five years, h.h. gregg began building stores with a new hi-tech design and opened its first h.h. gregg Fine Lines in Indianapolis. Dennis May was promoted to President and Chief Operating Officer and h.h. gregg began selling Serta Mattresses and laptop computers. The fourth generation of Throgmartins' joined the company when Jerry's son Gregg Throgmartin started in early 2001.
On July 26, 2007, h.h. gregg reached a pivotal turning point in company history when the opening bell rang at the New York Stock Exchange and h.h. gregg (ticker symbol: HGG) became a Publicly Traded Company. h.h. gregg continued to enter new markets during this time, with steady growth since 2007.After starting as a Sales Associate in the stores and moving through the company, Gregg Throgmartin was promoted to his current position of Chief Operating Officer and Executive Vice President in 2009. In the same year, Dennis May became h.h. gregg's Chief Executive Officer and President, while Jerry Throgmartin transitioned to an new role as Executive Chairman of the Board.
Today, h.h. gregg is one of the nation's leading and fastest growing retailers of home appliances and consumer electronics with over 220 locations. The services we offer continue to show we care about our customers' complete satisfaction.  We know the world of electronics and appliances is always evolving.  We understand the only part of our industry that is constant is change, and we recognize that in our business what separates "us" from "them" is our focus on providing excellent customer service.  We hope you'll find what you're looking for on our website or in our stores and we hope it meets the standards on which h.h. gregg has built its success.
Here are just a few of the ways that We Help at h.h. gregg:
Our expanded inventory of the best technology and brand names. We're proud to carry the latest technology and best products from the top brands. Browse through our selection of over 100 digital TVs on display or 500 major appliances in stock every day.
Smarter associates. Our standards for hiring and training are very high. Each Associate is trained to help you make the purchase that best matches what you need and what you want. Every year, our sales staff undergoes product knowledge education so they can answer all your questions correctly and help you make the right decision.
Convenient delivery. Next-day or any day, it's up to you.  Plus, we'll call 40 minutes ahead of time to let you know we're on the way
h.h. gregg Price Match Guarantee. If you find a current lower advertised price on the same, in-stock brand and model, we will match the competitor's advertised price. Click here to learn more about our Price Match Guarantee.
Product service from certified, experienced technicians.  h.h. gregg provides service on hundreds of thousands of carry-in and in-home product repairs every year.
Awesome rewards.  h.h. gregg rewards gives you special savings, instant coupons, surprise offers and much more.  What are you waiting for?  Sign up at www.hhgregg.com for your h.h. gregg rewards.
Welcome to the revolution in service.  Of course, it's been that way with us since 1955.