Jul
29
Fri
Mission Pack the Bus

@ Office Max Turkey Creek
Jul 29 @ 10:00 am – Jul 31 @ 6:00 pm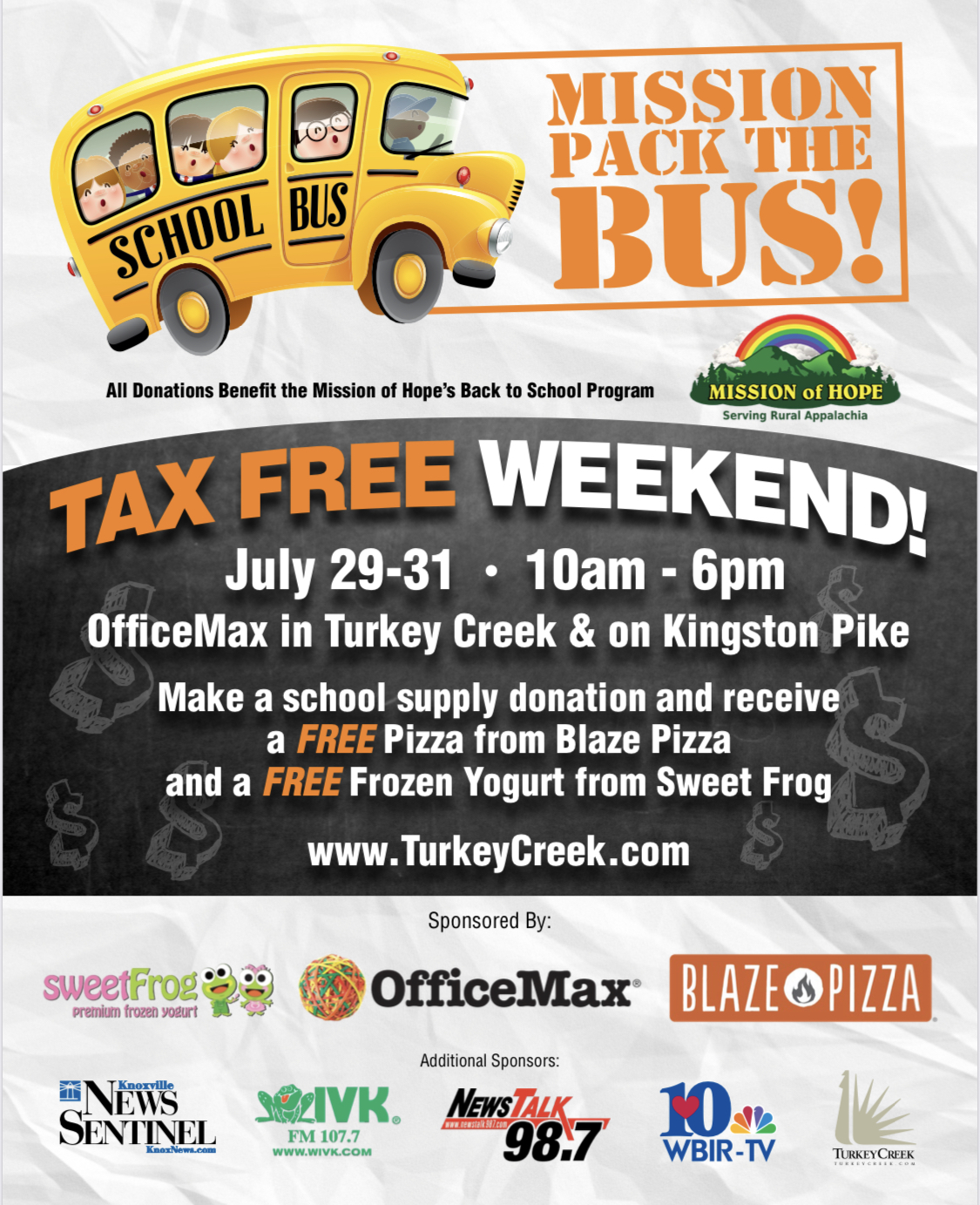 Mission of Hope and Turkey Creek Shopping Center will join forces to collect school supplies for Children in need at Mission Pack the Bus.  The school supply drive is Tax Free weekend, July 29 – 31 at OfficeMax in Turkey Creek and OfficeMax on Kingston Pike.  Families can drop off their school supply donations from 10am to 6pm at the school buses parked in front of OfficeMax located at 11012 Parkside Drive and 7111 Kingston Pike.   For the past 8 years, Turkey Creek shoppers have packed the bus full of pencils, paper, notebooks, backpacks, crayons, but most importantly, with love, generosity and HOPE for the Children of rural Appalachia.
"We absolutely love the Mission Pack the Bus event because it offers the opportunity for parents to take their children to buy wonderful school supplies for students who need them who will never get to say thank you," says Mission of Hope Executive Director, Emmette Thompson.  "It's a great lesson for those who are blessed to help other students begin the new school year on an equal playing field, and with two collection locations, it's easier for families to drop off school supplies that make such a difference for these deserving students. We are so grateful Mission of Hope Friends deem us worthy of these donated items," says Thompson.
As a way for Turkey Creek and the Mission of Hope to express gratitude, those who make school supply donations will receive free pizza from Blaze Pizza and free frozen yogurt from Sweet Frog.
This is the ninth year Turkey Creek has organized the school supply drive to benefit the Mission of Hope.   The donated school supplies help more than 12,000 rural Appalachian Children at 29 schools served by the non-profit.  The Little Bus Co. provides the school buses used to collect all the donations at the OfficeMax locations.
About the Mission of Hope
Since 1996, the Mission of Hope has ministered to the people of various rural depressed counties in Southeast Kentucky, Northeast Tennessee, and Southwest Virginia from which many of the residents no longer have jobs in the coal mining industry.  In their first event in 1996, they were able to assist 150 Children.  Last year because of the generosity of so many people, the Mission of Hope was able to help over 15,000 Children and their Families with Food, Clothing, Toys, Hygiene Bags and other items.
Oct
8
Sat
Taste of Turkey Creek

@ Pinnacle at Turkey Creek
Oct 8 @ 6:00 pm – 9:00 pm
The Taste of Turkey Creek is BACK! On October 8th from 6-9pm, sample cuisine from nearly two dozen of the top restaurants in Knoxville, TN. Plus enjoy adult beverages, great music, silent auctions, and so much more! Grab your friends and head over to the Pinnacle Turkey Creek for this annual East Tennessee event benefitting the Pat Summitt Foundation.