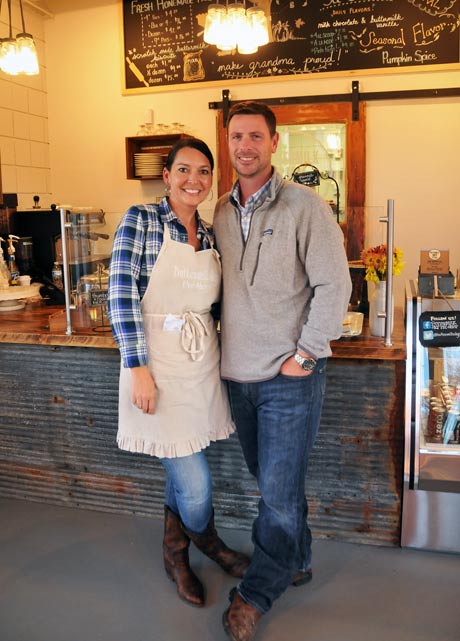 Our story begins in the kitchens of our maternal grandmothers Ruth and Edith, two Southern ladies, one from Arkansas and one from Mississippi who shared a spunk best described as "whiskey in a tea cup."  Known as much for their crazy sayings and firm beliefs as for their pies, biscuits, and preserves, these special women put a mark on our hearts that will last a lifetime.
Scott had the privilege of growing up on a 1500 acre second generation farm in rural Southeast Missouri.  Summer days were spent working in the garden, driving the tractor, and spending time in his Granny's kitchen canning and sampling her fruit pies and preserves.  It was here that he developed a strong work ethic and a taste for fresh handmade baked goods that would set the bar for quality at Buttermilk Sky.
Scott learned all aspects of running the farm from equipment, to livestock, to crops and basic business and brokerage principles.  He followed up his "farm raising" with a degree in Architectural Engineering and a 20 plus year career in Construction Management prior to going into the baking business.  Scott's attention to detail and passion for design has been a great asset to the retail build-out process of our stores.  When he isn't working, Scott enjoys fishing with our sons, Bo and Tabb, watching them play football, and hanging out on the porch with his yellow lab Gunner.
I on the other hand grew up a city girl from Memphis, TN home of Elvis Presley and the birthplace of the blues.  Memphis is famous for its BBQ and for the desserts that follow it.  Memphians know a thing or two about pie, and my Nanny (Grandmother) was no exception to the rule.  Nanny was known among friends and family and to many in the community as the "pie lady."  She was often seen toting her marigold colored Tupperware pie carrier to birthday parties, cookouts, reunions, and yes, even funerals.  I feel like that old pie carrier must have had more miles on it than her Chrysler Lebaron.
My sister and I often spent Friday nights at Nanny's house.  Saturday mornings were always a treat.  She made homemade "tea biscuits" cut with an old can.  It was just the perfect size to make a petite three bite biscuit.  If we were lucky, she would have a jar of her plum jelly to top them with and life was good.  Afternoons were often spent making pies.  While Scott's Granny was an expert on making fruit pies using fruits from her orchards, Nanny's specialties were cream pies and pecan pie.  The idea for our 4" Cutie Pies came from a child sized cast iron skillet that Nanny always let my sister and I used to make ourselves "baby pies" as we baked alongside her in the kitchen.
It is around our grandmother's specialties that we have built our classic pie menu; the fruit pies from Scott's Granny and the cream pies and pecan pie from my Nanny.  I never would have guessed that my prior career as a Speech-Language Pathologist and Scott's Construction Management career would have ended in the culmination of our childhood memories and entrepreneurial dreams in the form of a pie shop.  We first entered the bakery business following my sister's lead in 2007 and opened The Cupcakery as a licensed location of her original cupcake store in St. Louis, Mo.  It didn't take long for us to figure out that we loved the baking industry and the independence that we gained from owning our own business. It is with great pride in our family's time honored recipes and traditional baking methods that we invite you to enjoy the taste of Southern tradition, the taste of Buttermilk Sky Pie Shop.